Michael Chinn
Owner/Proprietor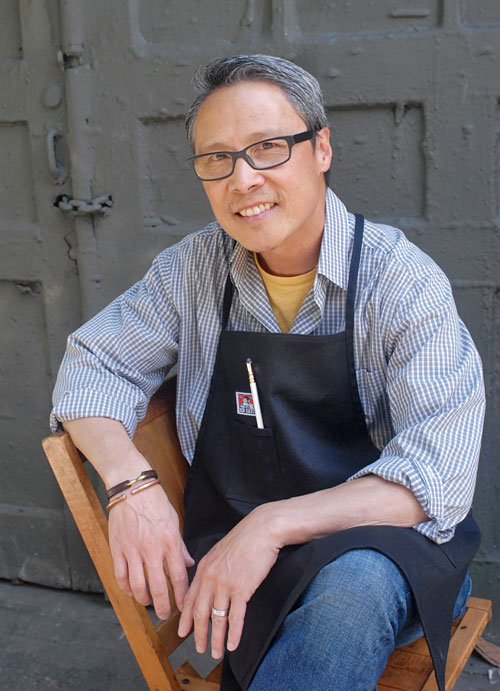 Michael Chinn Handmade Albums & Boxes is a studio & bindery located in the city of San Francisco, California. We handcraft custom albums and boxes for photographers.
Michael's education and training began many years ago in Pasadena where he attended ArtCenter College of Design and trained as a graphic & package designer for many years. After a challanging time in his career, Michael felt a new calling and direction. Always having an interest in fine art photography, Michael soon learned this new love of photography from a close friend/photographer and began photographing weddings along with learning the ancient art of bookmaking at a local center for the book arts.
While photographing weddings, Michael felt a need for a classic style album as well as contempory handmade boxes for prints. He began his research working with photographers, training under a master bookbinder from England and six months later, Michael developed a handmade matted album. That was 22 years ago and many albums and boxes made...our vision is still the same today as it was in 1999 - to always love what we do, provide the best customer service, design and develop high quality fine handmade products which will preserve cherished photographs for a lifetime.
Our exclusive albums and boxes offer a clean, simple and contempory look captured in a timeless piece. All of our products are designed and handcrafted of archival museum quality materials in our San Francisco studio.
Michael has been married for 20 years to his wife and 'journeymate' Cynthia and between them are raising their three growing (pre-teen, teens & pooch Maddy). Born and raised in San Francisco, in Michael's mind is the best place to live, breath and sip coffee.
Michael finds refreshment in the outdoors...camping in the valley of Yosemite, along the coastal redwoods or biking through the city for a great cup at Andytown Coffee Roasters. And above all, Michael's abilities are nothing without his faith in Jesus Christ who gives him renewed strength to live and love life each day to the fullest.

— For the love of creating, Michael Chinn